LIMS, SAP, SDMS, LES software
The Enterprise Solution from Thermo Scientific™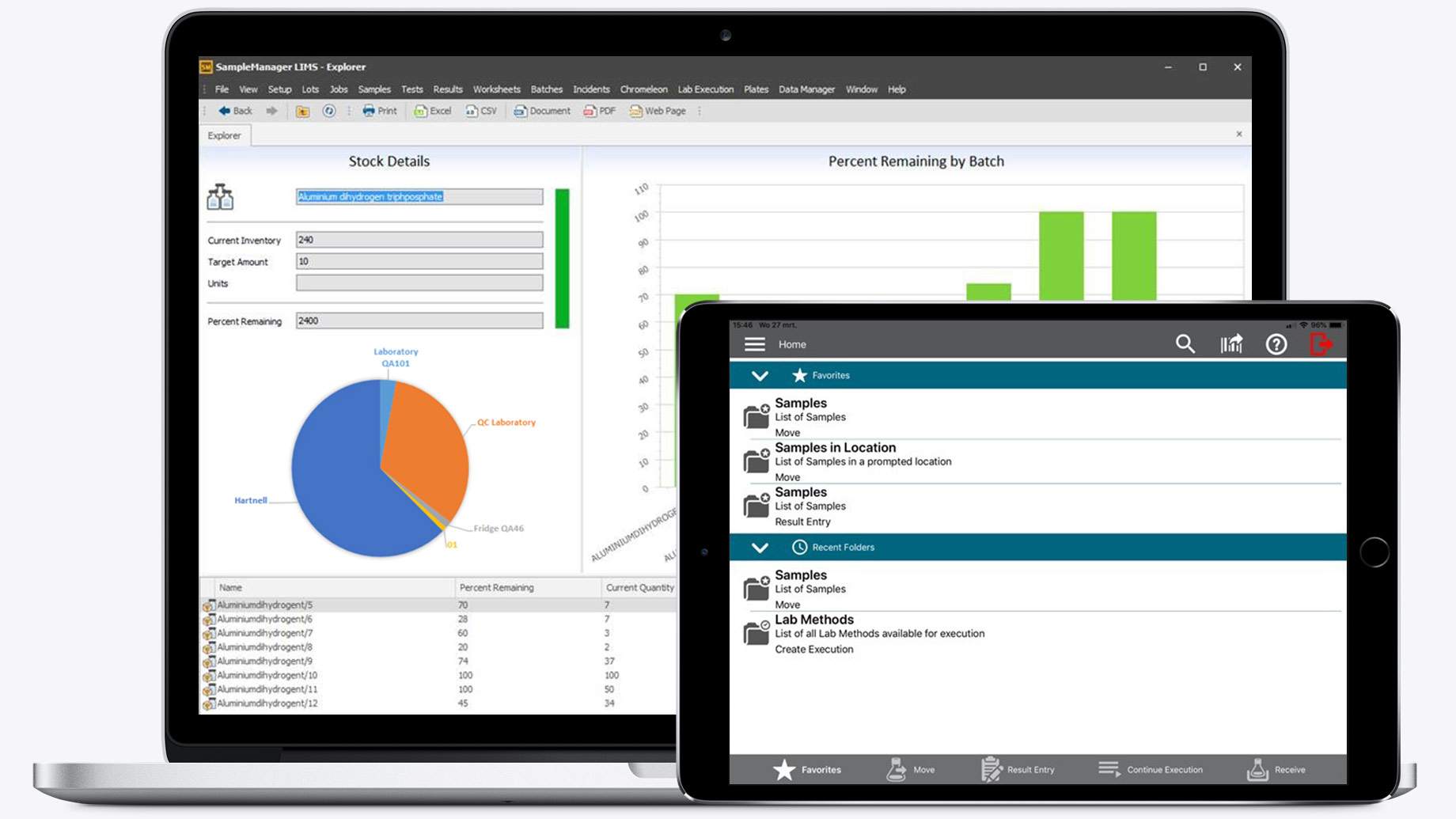 SampleManager LIMS™
For large laboratories with a high number of users
LIMS, SDMS and LES software
Multilingualism
Thermo Scientific SampleManager LIMS, SDMS, and LES software manages your laboratory, data, and process operations and connects to other enterprise systems, instruments, equipment, and your customers to ensure greater compliance and productivity throughout your organization.
Your advantages at a glance
Integration of laboratory devices and IT systems via the "Integration Manager" middleware
Standard interface to SAP QM
Support for multiple locations, even in different languages and time zones
An integrated interface to the statistics and graphics package "R" for complex evaluations of your LIMS data
Flexible licensing models and a scalable server architecture enable seamless integration into the internationally oriented IT infrastructure.
In addition to hosting SampleManager in the data center or on premise, cloud-based operation of the application is also a focus, especially when using a LIMS globally. For this purpose, flexible hosting models are available for the SampleManager LIMS
Functions SampleManager LIMS™
Conformity
Secure system access and controls to comply with the latest industry regulations such as GMP, ISO 17025 and FDA 21 CFR Part 11.
Data Analytics Solution
A set of out-of-the-box dashboards that reflect key business and lab insights, including resource availability, inventory information, site status, and lab performance, in a clear, interactive format.
Clear procedure execution
Laboratory Execution System (LES) software guides analysts through each step of a procedure to ensure compliance with SOPs and captures all process history. Increase quality and compliance through repeatable execution of procedures and processes.
Functionality for workflows
Users can quickly configure workflows according to their specific laboratory processes, automating decisions and actions. Workflows simplify initial system configuration and deployment, allowing laboratories to easily adopt new procedures.
Native mobile application
Allows access to LIMS and LES functions via a tablet, so you can "take the LIMS with you" and use it to run methods and acquire and process samples.
Centralized data management for chromatography and MS
For even smoother operation and to ensure data integrity, SampleManager LIMS software is tightly integrated with Thermo Scientific Chromeleon CDS (chromatography data system) software.
Integration and connectivity
LIMS software can connect to enterprise systems such as enterprise resource planning (ERP) systems and manufacturing execution systems (MES), as well as laboratory systems such as electronic laboratory notebooks (ELN) and chromatography data systems (CDS).
Cloud or on-premises deployment
The option to deploy Thermo Fisher managed infrastructure including server, operating system and database, backup, disaster recovery and information security monitoring, reducing initial hardware and ongoing IT costs.
Electronic laboratory notebook
A laboratory journal for analysts is integrated into LIMS, allowing users to add and link to a variety of data types and formats, such as rich text, spreadsheets and PDFs, and molecular structures.
Scientific Data Management System (SDMS)
Designed to comply with regulatory requirements, the software ensures that all raw data and associated metadata is secure and accessible for the entire data lifecycle, without the need for the original device software.
Contract laboratory testing and contract portals
Allows laboratories to manage all work elements. The job portal provides access for reviewing and approving quotes, registering samples, printing labels for shipping, and reviewing invoices and results