Automated report generation for bioanalytics and stability
Your solution for rapid time to market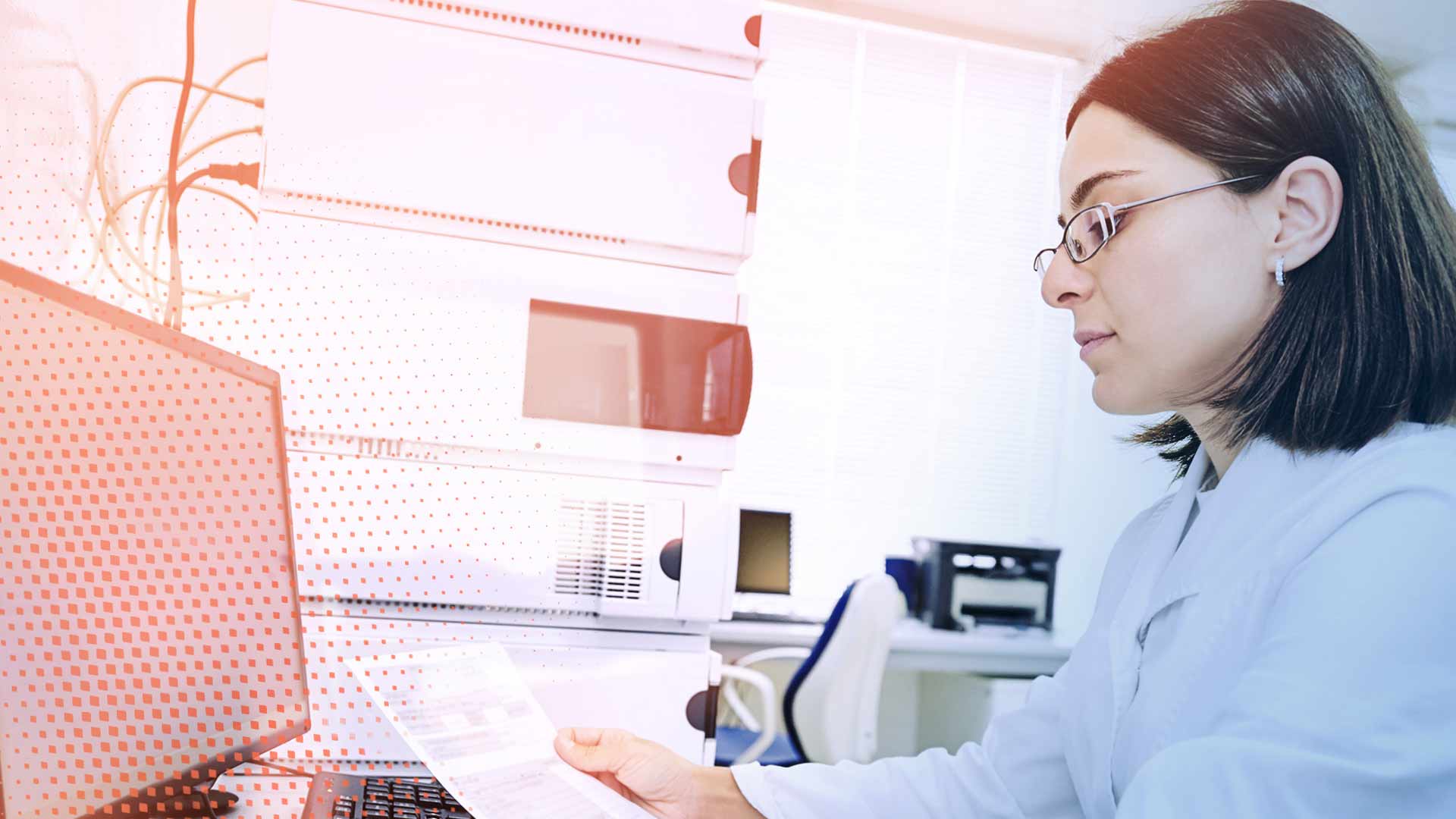 Developed with leading pharmaceutical companies
Ideal for preclinical, clinical and stability studies
Automated processes and seamless data collaboration and reporting
15 of the TOP 25 pharmaceutical companies are already working successfully with it
Developed in collaboration with leading pharmaceutical companies, studygen allows you to automatically generate complex study reports and approval documents within minutes. Closed-loop process management ensures the integrity of your data from start to finish, eliminating the need for data revalidation. Pharmaceutical companies and CROs around the world rely on studygen because it not only automates processes but also ensures seamless data collaboration and reporting.
With our studygen product family, we offer a powerful scientific information plattform that can map the different requirements and scientific challenges of clinical studies in bioanalytics and stability.
---
iStudyReporter becomes studygen
In order to be able to adapt our solutions even more flexibly to the constantly changing requirements in the area of research & development in clinical studies, studygen will serve as a platform for our reporting solutions in the future.
As a leading provider of report writing solutions for the life science market, our iStudyReporter is already used by 15 of the top 25 pharmaceutical and biotech companies in the US and Europe. Our studygen platform marks the next important milestone in the expansion and development of highly specialized reporting solutions for the pharmaceutical industry.
How can studygen support your labs needs

Fast
time to market
Reduced workload through automated, template-based report generation without time-consuming manual creation processes or data revalidation (QC checks).

Direct
applicable
With regulatory-compliant, preconfigured reporting elements for all preclinical, clinical and stability studies.
Simple
Application
Easy-to-use thanks to WIZARD software and user interface based on Microsoft Office applications and use of Microsoft Office applications for report generation.

Regulatory
Security
21 CFR Part 11 -compliant with FDA regulations for electronic documentation, electronic signatures and human-readable archiving, traceability through versioning and audit trail.

Data integrity
Merging of data from various sources (Lims, SAP, Excel, databases and other sources) and assured data integrity throughout the process. Optimized data exchange between CRO and sponsor.

Future-proof
Ensured longevity through continuous development, the use of the latest technologies and cloud options.
---
Days instead of weeks
The key process of report writing
The report sections of Chapters 3 and 4 of the eCTD are very data dominated and are mostly generated from electronic data acquisition systems (e.g. LIMS).
Current process

For this purpose, measurement results of samples are imported from an upstream system or recorded directly and authorized according to the dual control principle.
The data can only be inserted directly into a report in exceptional cases, but must first be analyzed using static procedures and converted into a compact representation. The vast majority of these reports are created using Microsoft Word and enriched with results tables. Since data integrity is usually lost in this process, they are checked and sent back to the author for revising the anomalies. Depending on the abnormalities that have occurred, this procedure may be repeated several times.
The end result is an authorized report with valid data content that can be included and linked to an eCTD.
Optimized process with studygen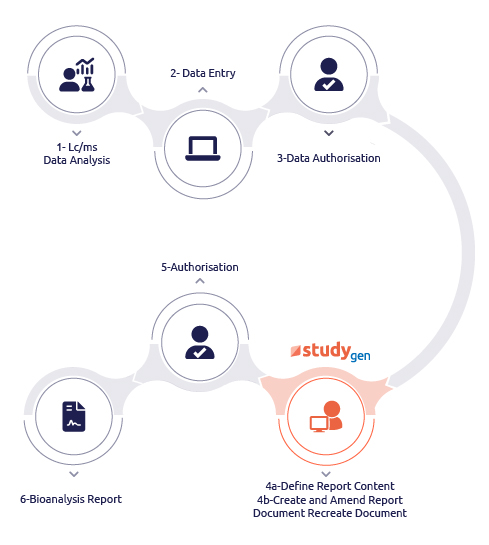 When using studygen, all manual steps of data evaluation, statistical summary and presentation preparation are taken over by the software.
Also, the Word tool remains as an authoring tool, but the embedded data tables are protected from manual changes. This eliminates time-consuming verification steps and correction cycles.
Supported guidelines
Aligned with the following applicable guidelines in research and development, studygen complements the digitalization initiatives of the pharmaceutical industry:
Bioanalytical Study Reporting: FDA: Bioanalytical Method Validation, May 2018

Immunogenicity Study Reporting: FDA: Immunogenicity Testing of Therapeutic Protein Products -Developing and Validating Assays for Anti-Drug Antibody Detection, January 2019

Data Integrity Requirements: MHRA: 'GxP' Data Integrity Guidance and Definitions and FDA: Data Integrity and Compliance With Drug CGMP

Bioanalytical Study Reporting: Upcoming ICH M10 guideline

Stability data evaluation: ICH Q1e Evaluation of stability data